Distributed by University of Toronto Press (UTP)
Read the national and local reviews and commentary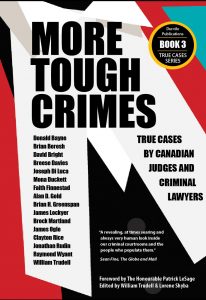 More Tough Crimes: True Cases by Canadian Judges and Criminal Lawyers
Book 3 in the True Cases Series.
Foreword by Hon. Patrick LeSage. Edited by William Trudell & Lorene Shyba.
More Tough Crimes follows the success of Tough Crimes and Shrunk, the first two books in the "True Cases Series." From notorious cases to sensational strategies, this book provides readers with a window into the insightful thinking of some of Canada's best legal minds.
READ MORE and watch the book trailer video.
A percentage of sales goes to Canadian Women's & Family Shelters
ISBN: 978-0-9947352-5-6 | 272 Pages | $29.95 | Release, May 31, 2017. Now Available
—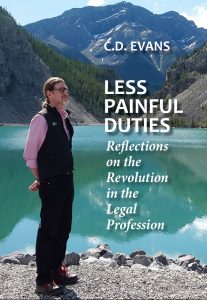 Less Painful Duties: Reflections on the Revolution in the Legal Profession
Written by C.D. Evans QC
Less Painful Duties is a sequel to C.D. Evans' memoir A Painful Duty: Forty Years at the Criminal Bar. In Less Painful Duties, Evans reflects on truly revolutionary changes that have come about within the Canadian legal profession.
READ MORE and watch the book trailer video.
ISBN: 978-0-9952322-1-1 | 160 Pages | $29.95 | Release, May 31, 2017. Now Available
—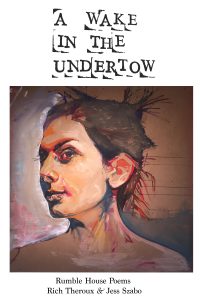 UpRoute Imprint Book
A Wake in the Undertow
Rumble House Poems
Written by Rich Theroux and Jess Szabo
This collection unveils two people in love as they disclose things survived, dig deep for sacred weapons, and face the tumult of running on fumes. This is a compelling work by Rich Theroux, the author of Stop Making Art and Die: Survival Activities for Artists, and Jess Szabo, a woman whose words radiate love, happiness, and generosity. READ MORE and watch the book trailer.
Trade Paper, $16.95 | E-book $9.95
ISBN 9780995232242  | 108 Pages | Release, July 1, 2017
Read about the UpRoute Space Program
—
Durvile Publications Ltd. and UpRoute Books and Media
Submission Guidelines | Email us at info@durvile.com
Members of The Book Publishers of Alberta and 
The Association of Canadian Publishers.
We would like to acknowledge the support of the
Alberta Government through the Alberta Media Fund.