Thank you for attending the Fall 2021 Events. Our schedule is now over.
Durvile Publications Shelf Life Books and Audreys Books hosted the Fall tour of Durvile Fall titles. Thanks Shelf Life, Rumble House, and Audreys Books.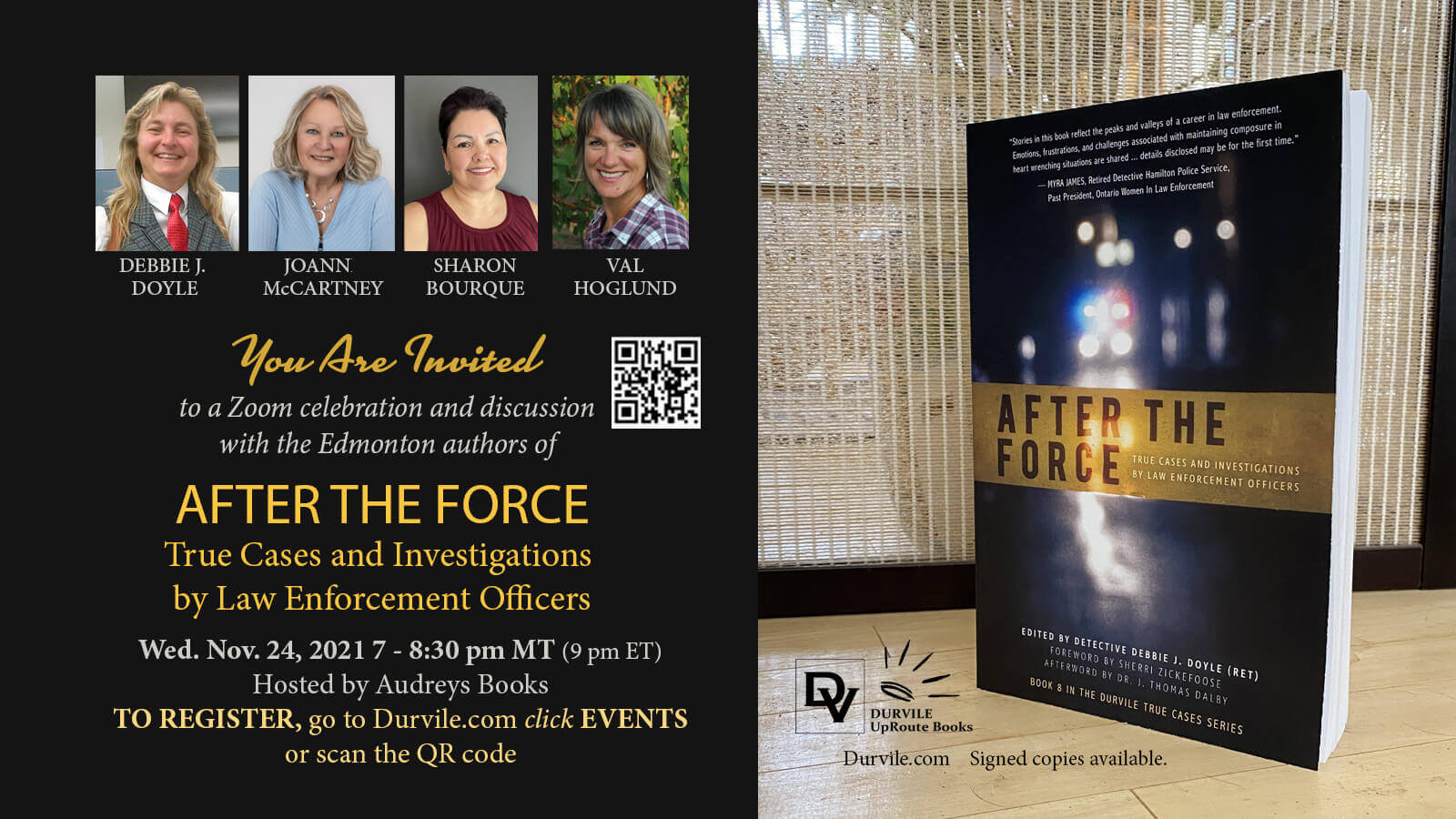 HOSTED BY AUDREYS BOOKS, EDMONTON, on ZOOM
Wednesday, November 24, 2021, 7:00 - 8:30 PM MT
With Editor Det. Debbie J. Doyle and authors Val Hoglund, Sharon Bourque, and JoAnn McCartney. Moderated by publisher Dr. Lorene Shyba.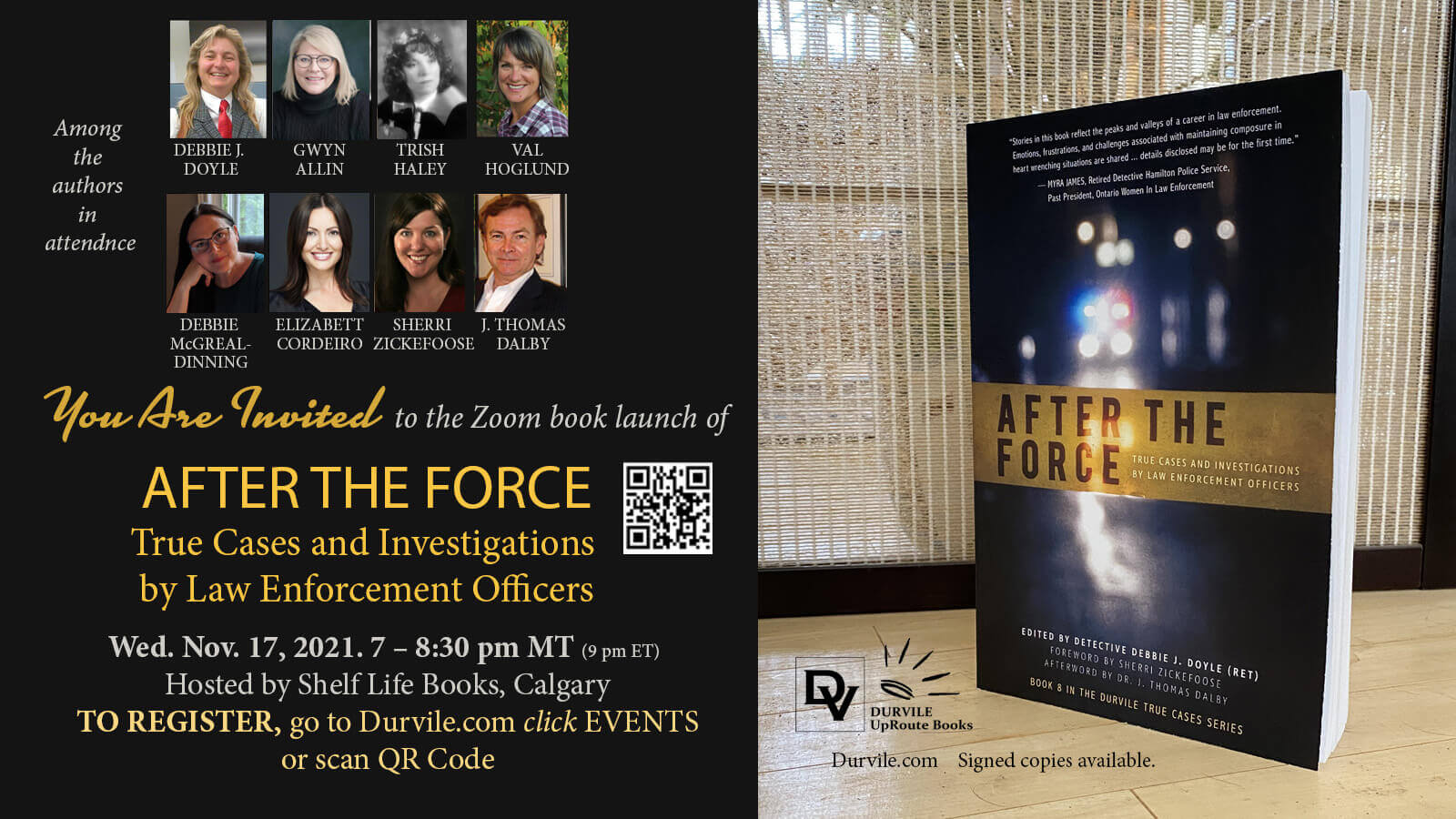 Thank you everyone for attending this Shelf Life Events. Peace.
____________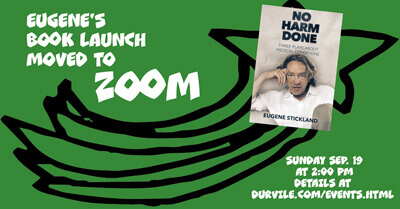 THANK YOU TO EVERYONE WHO ATTENDED!

Sunday, September 19. 2 - 4:30 pm MT No Harm Done. By Eugene Stickland
MOVED TO ZOOM, DUE TO ALBERTA COVID RESTICTIONS.
Book is on sale at the event and after through Shelf Life Books.

----
ALL EVENTS POSTPONED DUE TO COVID OUTBREAK IN NWT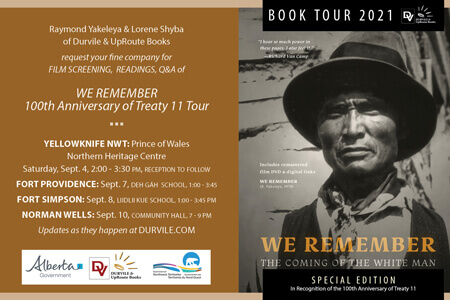 NWT We Remember, Special Edition Book/Film Screening Schedule, sponsored in part by the Government of Alberta, Alberta Media Fund and the Government of NWT.

Saturday, Sept. 4, 2021
Yellowknife NWT: Prince of Wales Northern Heritage Centre, 2:00 - 3:30 pm, reception to follow
Tuesday, Sept. 7, 2021 Fort Providence Deh Gáh School, 1:00 - 3:45
Wednesday, Sept. 8, 2021 Fort Simpson Liidlii Kue school, 1:00 - 3:45 PM
Friday, Sept. 10, 2021 Norman Wells, Community Hall, 7 - 9 PM
-----
Zoom launch with Raymond Yakeleya and other authors and artists
Sunday, April 18, 2021, 2:00 PM

Hosted by Audreys Books, Edmonton

Thank you everyone who attended. It was a delightful afternoon on Zoom.